Minister Alberto van Klaveren addresses foreign policy challenges at the Annual Meeting of Romanian Diplomacy

Tuesday, August 29th 2023
Minister of Foreign Affairs, Alberto van Klaveren, was invited today to participate in the Annual Meeting of Romanian Diplomacy, where he was in charge of giving the Opening Speech. At the event, attended by the Romanian Minister of Foreign Affairs, Luminita Odobescu, the Chilean Minister addressed the challenges facing foreign policy today.
For the minister, in a context of increasing fragmentation, growing inequality and corruption, war conflicts, threats to democracy in some nations, natural disasters and high competitiveness among the great powers, "those who develop foreign policy must skilfully combine principles and national interests in the best possible way to face the complex challenges of this turbulent world".
"In our case, these principles are clear and enduring, and we share them with Romania. I am referring to respect for international law and treaties, the independence of states and sovereignty; the defense of territorial integrity; the promotion and defense of human rights and democracy; the peaceful settlement of disputes and a strong commitment to multilateralism, which we define as the responsibility to cooperate," he said.
Minister van Klaveren also referred to the importance that Chile attaches to the growing integration of nations, through the creation of dialogue mechanisms, and especially to regional integration: "We speak to the world from Latin America. Our objective is to present a common vision and enable closer interaction with other regions," he mentioned.
The minister commented that the region should make progress on issues such as connectivity, the movement of people, the facilitation of aid and disaster relief, as well as improving its capacity to take advantage of its resources, such as its vast natural reserves, which are essential to face the challenges of climate change, among other things.
"In addition, we must contribute to global governance, particularly in the most sensitive issues for Chile, such as human rights, democracy, open trade, climate change, organized crime and oceans," he added.
In his speech, the minister thanked Romania for its support in achieving political closure of the Advanced Framework Agreement, a modernization of the Association Agreement between Chile and the European Union. "There are many reasons for a closer relationship between Latin American countries and Europe. History, adherence to human rights and democracy, common approaches to multilateralism, economic interests. Chile has also positioned itself as a regional leader in terms of clean energy production," he concluded.
During the day, the State Secretary met with the Prime Minister of Romania, Marcel Ciolacu, with whom he highlighted the good moment of ties and agreed to strengthen bilateral relations. They also referred to the commemoration of the 50th anniversary of the coup d'état in Chile. The Chancellor thanked Romania for its support to Chilean exiles.
He also held a meeting with the Minister of Foreign Affairs of Lithuania, Gabrielius Landsbergis. The authorities discussed the consequences of Russia's war of aggression against Ukraine.
Related articles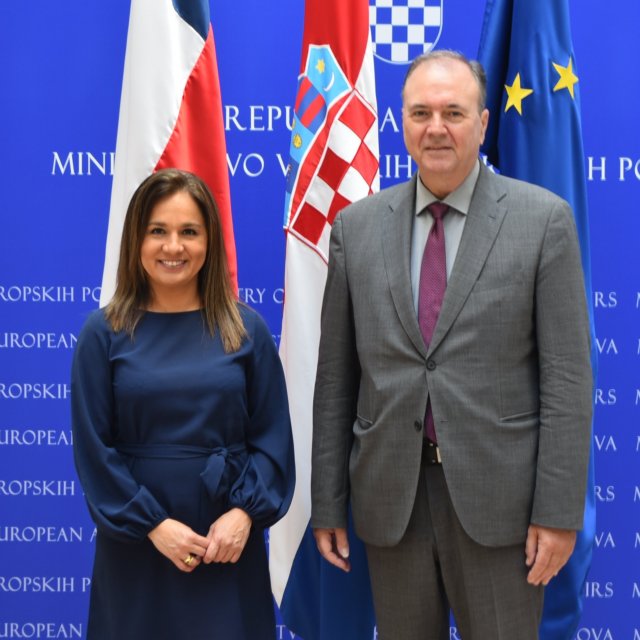 Thursday, September 28th 2023
Chile and Croatia hold political consultations and make progress on several agreements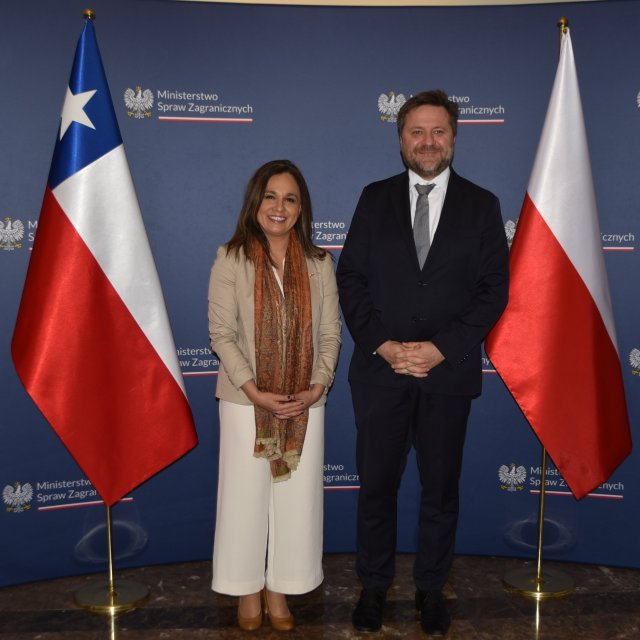 Tuesday, September 26th 2023
Undersecretary Gloria de la Fuente leads Political Consultations with Poland