"Viña del Mar is a milestone because, after several years, we have a joint statement"

The Foreign Minister, Roberto Ampuero, led the second day of work of the Trade Ministers Meeting at the Asia-Pacific Economic Cooperation Forum APEC 2019 that took place in Viña del Mar.
At the end of the meeting, the Chancellor and the assistants celebrated that, after two days of work, the 21 participant economies reached a joint declaration, a document that addresses the priorities for 2019, the Deepening of APEC's Regional Economic Integration Agenda and the decision to promote APEC's support to the WTO.
The Chancellor assured: "It is necessary to underline that Viña del Mar is a milestone because, after several years, a joint declaration was achieved. We managed to unite ours grounds and common foundations, to raise a single voice. This is very important, especially in the actual scenario where the world trade suffers a lot of turbulences".
In this line, the Minister added: "This common declaration is very important for the development of APEC 2019. Now comes a series of meetings that will culminate with the gathering of APEC economies leaders. "This marks a central and decisive line to continue pointing towards the future with optimism".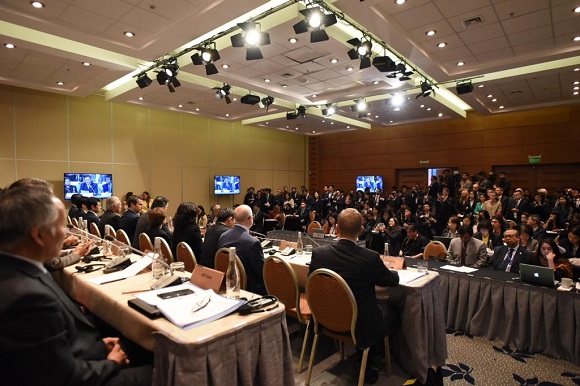 The Declaration of Viña del Mar was done twenty-five years after the first meeting of Trade Ministers, an instance that arose from the collective desire of the members to improve economic cooperation. "Since then, we have focused on boosting trade and investment liberalization," the declaration said.
And it adds: "In 2019, as we celebrate the thirtieth anniversary of APEC, we are proud of what our economies have achieved together through non-binding, voluntary, collaborative and consensus-based cooperation. We reaffirm these principles, which continue to underpin our work, for achieving a peaceful, dynamic and prosperous Asia-Pacific region for the benefit of all. We are happy to welcome the APEC 2019 theme "Connecting people; building the future".