Ministry of Foreign Affairs holds informative meeting with accredited consular body on COVID-19

The Undersecretary of Foreign Affairs, Carolina Valdivia, along with the Undersecretary of Public Health, Paula Daza, and the General Director of Consular Affairs, Immigration and Citizens Abroad, Ambassador Raúl Sanhueza, led a meeting with the consular corps accredited in Chile to provide guidance about the procedures of the health alert decreed in the country due to the coronavirus.
In this context, a presentation on the control protocols at ports of entry to the country, carried out by the Ministry of Health, was made. This protocols consider a sworn statement of Chilean and foreign passengers arriving in Chile.
This event was held in response to the instructions given by the President of the Republic, Sebastián Piñera, who this Thursday led a meeting with Undersecretaries, attended by Undersecretary Valdivia, in which he detailed the measures deployed to combat the coronavirus in the country.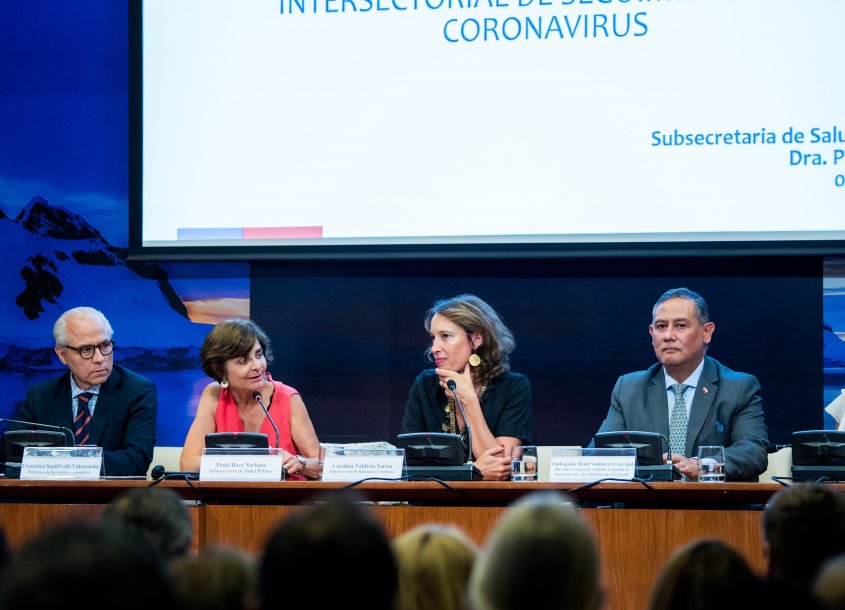 "The Government of Chile will follow the guidelines of the World Health Organization and the guidelines of the International Health Regulations. It is important to exchange information on the current state of the situation and provide guidance to the consular corps," said Ambassador Sanhueza.
The activity was attended by representatives of the consular corps accredited in Chile, to whom it was emphasized that, in case of queries regarding the health alert decreed, they can contact the Emergency Unit of the Ministry of Foreign Affairs.