Foreign Minister Ampuero assesses the choice for peace in Chile and Argentina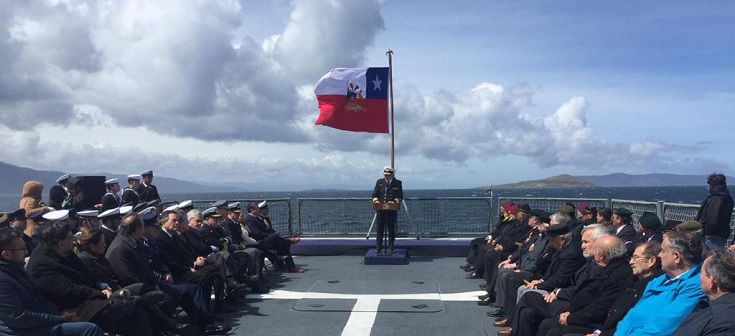 Today the Minister of Foreign Affairs, Roberto Ampuero, travelled to Puerto Williams to participate in the commemoration of the 40th anniversary of the peaceful settlement of the Beagle conflict with Argentina.
The ceremony, which took place on the Navy's OPV Pardo, was led by the President of the Republic Sebastián Piñera, who in addition to the Chancellor, was accompanied by the Minister of Defense, Alberto Espina, and the Commanders in Chief of the Army, Navy and Air Force.
Along with the authorities, a group of ex-soldiers from the different branches of the Armed Forces, who were deployed in Chilean territory during the period of the conflict, also travelled. At the ceremony, the former soldiers were decorated by President Piñera, Foreign Minister Ampuero and Minister Espina.
At the end of the meeting, the Chancellor pointed out that "exactly forty years ago, on January 8, 1979, the then Chancellors of Chile and Argentina signed the so-called Montevideo Act, in which they accepted the Papal Mediation. That was a key date: only a few days before both countries had their troops deployed in this same area. That both foreign ministers met and signed a document in which they committed themselves to lay down their arms and submit to the Pope's will to seek peace was one of the most important milestones in our history".
"The ceremony here today has that meaning: to remember with great emotion and joy that with Argentina we were able to lay down our arms, to put aside hatred and our differences, and to put above everything else that we are fellow nations, nations that deserve peace and deserve the opportunity to advance towards its development," added the Chancellor.
"That is what we are working on today; that is the mandate left to us by the diplomats of both countries who, in difficult times, opted for peace. In 2018 we had a binational cabinet meeting with Argentina, we have a very concrete agenda, marked by issues of physical integration, energy integration and cooperation on various issues," concluded Minister Ampuero.