Chancellor Ribera meets with Chinese Ambassador and expresses his solidarity for the coronavirus outbreak

Tuesday, February 18, 2020
Foreign Minister Teodoro Ribera met this afternoon with the Ambassador of the People's Republic of China, Xu Bu, to discuss various issues on the bilateral agenda.
During the meeting, Minister Ribera expressed the solidarity of the Government, as well as the people of Chile, in light of the outbreak of coronavirus that is affecting his country, in addition he pointed out Chile's interest in reaching levels of coordination in this matter.
In this regard, the Secretary of State suggested that a group of national infectious disease experts should travel to the country to learn about the prevention and fight against this disease, so as to acquire knowledge and experience that will allow them to transmit this learning to the rest of the countries in the region.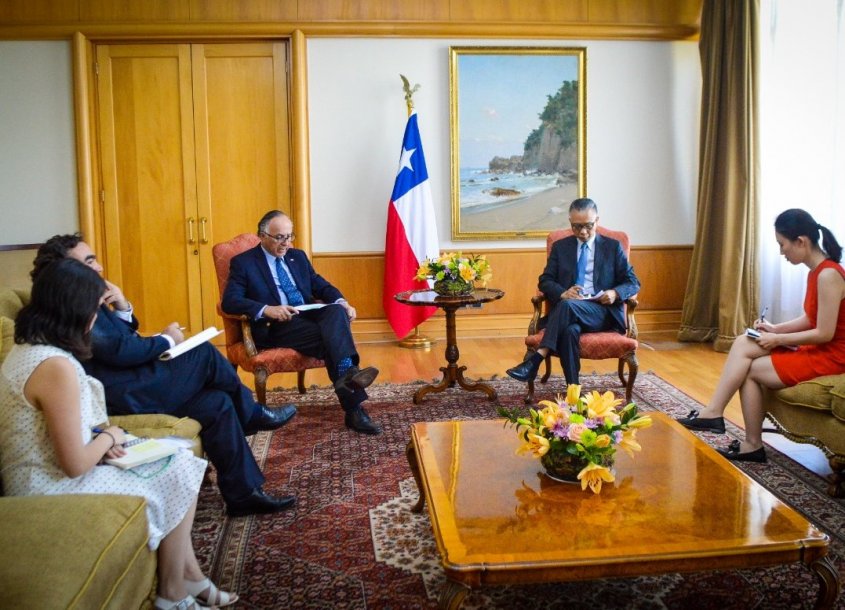 Meanwhile, the Chinese Ambassador informed the Chancellor that, with the exception of Hubei Province (whose capital is Wuhan), there has been a substantial drop in infections in the last 13 days. He confirmed that the five Chileans in that province are in good health.
During the meeting, the bilateral and economic agenda between the two countries was also discussed. Xu Bu highlighted that they are making every effort to normalize the situation of Chilean exports. In this context, he highlighted the attraction that China has for Chile, considering that it has a middle class that reaches 400 million people, an attractive market for national exports.
It was also agreed that, in the coming days, Minister Ribera will hold a telephone conversation with his counterpart Wang Yi to discuss issues of mutual interest.