Chancellor Ampuero: "We are here to help the Chileans who are abroad and in trouble, we are not leaving them alone"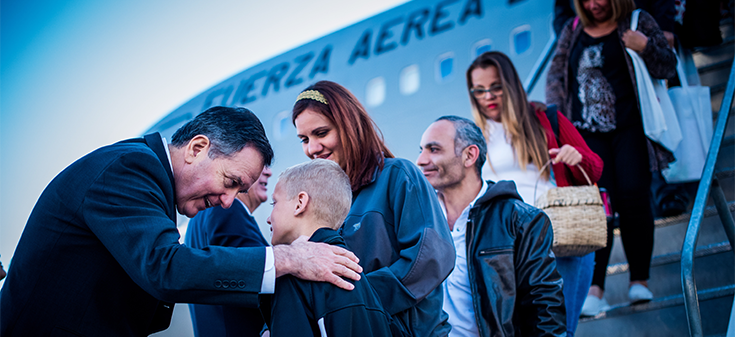 Thursday, January 31, 2019
"This is a great morning to receive all the Chileans", claimed the Minister of Foreign Affairs, Roberto Ampuero, after receiving in Santiago the press team of Televisión Nacional de Chile (TVN) that was detained and deported from Venezuela, and after welcoming 201 Chileans that with the help of the Government of Chile, returned to leave behind the serious humanitarian crisis facing that country.
"We are here to help the Chileans who are abroad and in trouble, we are not leaving them alone", stated the Chancellor, referring to the role of the Government and the Chancellery in both situations.
The activities began early in the morning, when the Minister arrived to the room of protocol of the Airport of Santiago to receive the TVN team. The Chancellor met with the journalist Rodrigo Pérez and the cameraman Gonzalo Barahona for about 20 minutes, who reported what happened throughout the 14-hour detention in Caracas.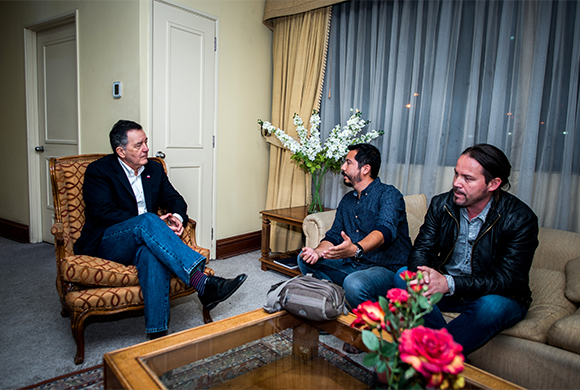 In the meeting, the journalist thanked the role of the Chilean Chancellery, and in particular of the members of the Embassy of our country in Venezuela, to arrange their release.
"As the Ministry of Foreign Affairs and from the beginning we always said: we are not leaving them alone, and we are going to regain their freedom for their return to Chile", said the Minister.
After this, the Chancellor manifested the joy that meant the return of these professionals of the Chilean press, and highlighted: "I want to congratulate the work carried out by our mission in Venezuela and the specific work made by our Charge d'Affairs, Roberto Araos, who together with other members spent hours arranging and waiting close to the place where they had been detained. They didn't want to lose track of where they were. That is how our Ministry of Foreign Affairs runs: in a concrete and clear way".
After meeting with the press team, the Chancellor headed to the 10th Group of the Chilean Airforce (FACh), where together with the Minister of the Interior, Andrés Chadwick, received the airplane with 201 Chileans returning from Venezuela.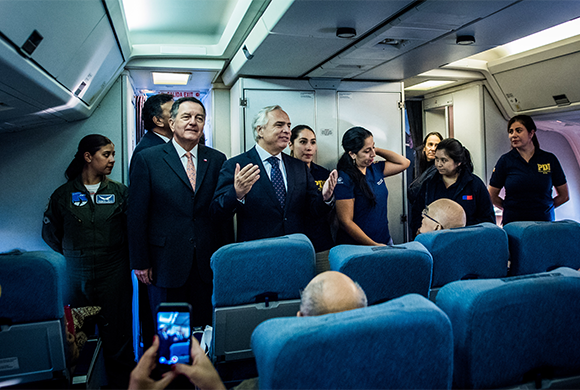 This was possible within the Strengthening Consular and Migration Policy Program that is in charge of examining the cases and allowing that the Chileans in positions of vulnerability abroad could opt for networks of social protection.
The Minister claimed: "We are very happy to receive this third airplane with Chileans that are returning from Venezuela with the help of the Chancellery. One hundred people came back in this flight adding up to the 155 Chileans that already returned from Venezuela in the two previous FACh flights, what makes up very happy".
"In Venezuela there is an unprecedented humanitarian, political and economic crisis. This group of Chileans asked for help to the Chancellery to come back, and it is very gratifying to say that we have been able to do it", concluded the Minister.