1st Meeting of the Committee for the Chile-ASEAN Development Association

On Friday 31 January, the First Meeting of the Committee for the Chile-ASEAN Development Association was held at the General Secretariat of that Association. The Chilean delegation was headed by Ambassador Gustavo Ayares and included Tania Pierotic, Head of the Asia Division of the Undersecretariat of International Economic Relations (SUBREI), Pablo Walker, from the Embassy of Chile in Indonesia, and María Ignacia Rojas, Legal Advisor of the Asia Division of SUBREI. On behalf of ASEAN, the meeting was co-chaired by the Undersecretary-General for the Economic Community, Alladin Rilo, and was also attended by the entire Committee of Permanent Representatives to ASEAN.
Regarding the latest developments, the Deputy Secretary-General reported on the main outcomes of the 35th ASEAN Summit and related meetings held last November in Bangkok. He addressed the progress of this regional organization, especially in the promotion of peace and security as fundamental elements for economic and social development; ASEAN's economic integration; the preparation for the fourth industrial revolution; the commitment to multilateralism and international cooperation in the defense of the open multilateral trade system, among other issues.
On his part, Ambassador Ayares, while presenting the progress made by our country during the last thirty years, referred to the political, economic and social contexts in our country, especially since October 2019. In this sense, he explained the social agenda that is being carried out, the plebiscite process that has been agreed upon to approve or reject the drafting of a new Constitution, and he placed special emphasis on the democratic framework in which these events are taking place.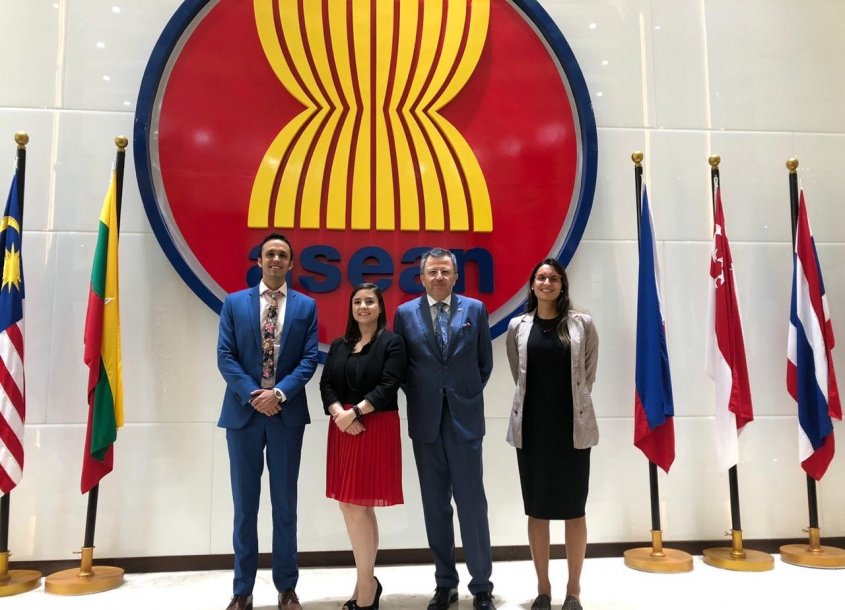 After that, the Ambassador presented Chile's vision on future projections in its relationship with ASEAN. At this point, he presented the general lines, while Pierotic referred in detail to the areas of cooperation that our country has proposed and the programs in conditions to be implemented. This topic caused a very positive impression within ASEAN representatives. It was understood that the work plan proposed by Chile is ambitious, but realistic, the availability of funds for the proposed projects and the transparency on the capacity to carry them out was appreciated.
There was also interest in the proposed areas of cooperation and other possible areas emerged from the subsequent discussion. The workshop on the negotiation of trade agreements, the possible cooperation on maritime issues, such as illegal fishing or plastic waste management, cooperation on the cultivation of quinoa, were especially appreciated. Of particular interest was the possibility of establishing a system of scholarships for ASEAN diplomats in Chile, through the international course of the "Andrés Bello" Diplomatic Academy. 
Source: Embassy of Chile at Indonesia