President Bachelet in "The Belt and Road" Forum: "Chile is ready to be a bridge between Asia and Latin America"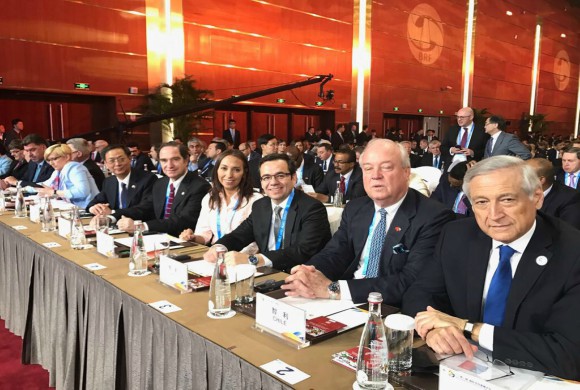 The Foreign Minister of Affairs, Heraldo Muñoz, participated along President of the Republic, Michelle Bachelet, and other world leaders, in the "The Belt and Road" International Cooperation Forum inauguration ceremony.
During the event, Minister Muñoz met with his Russian peer, Sergei Lavrov. Minister Muñoz personally thanked Minister Lavrov for the aid sent to our country to fight the forest fires in January, including the Ilyushin plane. Minister Muñoz also discussed with Secretary-General of the United Nations, António Guterres, with whom he had met a few days ago in New York.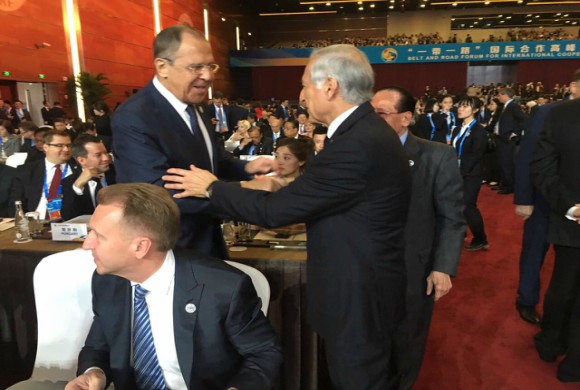 President Michelle Bachelet initiated The High Level Dialogue plenary session with her speech. She began by appreciating the opportunity to talk "in name of her country and all Latin America". In moments of growing skepticism on the economic benefits of opening to the world, President Bachelet highlighted that the Forum allows to "look further from the actual scene and work together for a lasting development".
The President of Chile also called to action all of those countries committed to the opening of markets to respond in front of the general protectionist tendencies especially in the United States and Europe after Great Britain's exit from the European Union. "Chile appreciates the great effort made by China to search for new approach mechanisms, connectivity, innovation and sustainable development. The scope, the high level participation, and the strategic dimensions of the "The Belt and Road" initiative are relevant for the capacity of this initiative to transform into a major economic cooperation project at the moment", affirmed President Bachelet.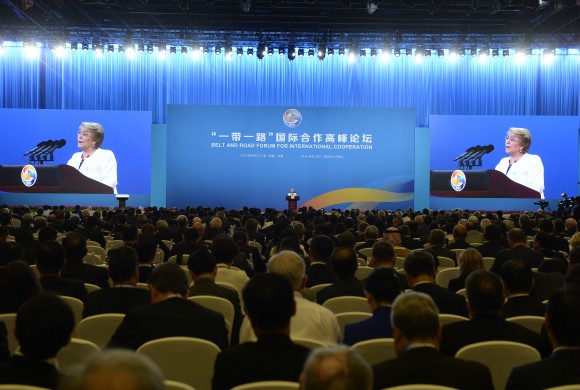 In her speech, she also highlighted that "areas such as infrastructure, connectivity, and sustainable development have possibilities of improving cooperatively. "The Belt and Road" initiative is key to this process because it promotes regional trade agreements, and improves connectivity with Asian countries, Europe, Africa, and also Latin America".
The Head of State remembered that the Pacific Alliance is developing joint trade initiatives with Mercosur, another relevant South American trade block.
Finally, President Bachelet stated: "Chile is ready to be a bridge country between Asia and Latin America. "The Belt and Road" is the path to shorter distances and a modern connectivity that will aid productive processes, national growth, the opening of new markets, promotion of investments, tourist flow increase, and a deeper mutual understanding between countries. The initiative will finally set out a more inclusive, equal, fair, prosperous, and peaceful society".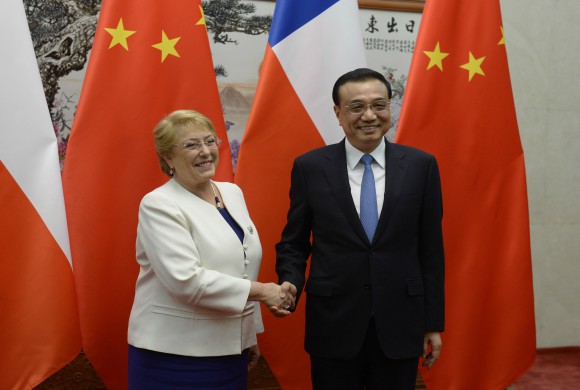 The event ended with Xi Jinping's sincere gratitude to the assistants.
Meanwhile, in the afternoon, Minister Muñoz and President Bachelet were welcomed by the Prime Minister of China, Li Keqiang, in the Great Hall of the People in Beijing.