Minister of Foreign Affairs (S) welcomes new Canadian Ambassador to Chile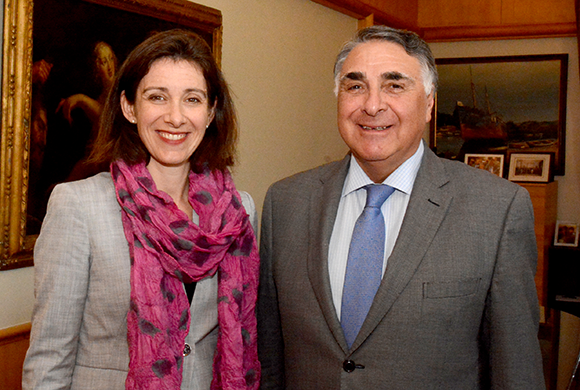 Foreign Minister (s) Edgardo Riveros received Ambassador Patricia Peña, who presented Credentials Letters to President Michelle Bachelet on Wednesday, October 25th of this year
During the meeting, the Chancellor (s) highlighted the excellent and fluid bilateral relationship between Canada and Chile, in which there is a great deal of agreement on issues of multilateral and regional interest, considering that both countries are currently co-chairing the Coalition for Equal Rights and are part of the Lima Group. The good bilateral relationship between Chile and Canada is also reflected in the important exchange of visits by senior officials from both countries, including the State Visit made by President Bachelet last June to the cities of Ottawa and Toronto and her talks with Prime Minister Justin Trudeau, which dealt with issues of great importance to the country, such as the environment, gender and human rights. In addition, the Free Trade Agreement with Canada was modernized and an innovative chapter on gender and trade was signed during the visit.
The Minister of Foreign Affairs (S) stressed the importance of Canadian investments in Chile, as this country has positioned itself as the largest foreign investor in the mining sector. He also added important advances that have been made in recent times to facilitate the flow of citizens between Chile and Canada with the elimination of the visa requirement for entry to the country and its replacement by an electronic authorization system. The authority also mentioned the youth mobility agreement, which allows 900 Chileans and Canadians to travel, work and get to know these countries each year.
Ambassador Peña, for her part, expressed her gratitude to the Chilean authorities for their welcome, and hopes to work to further advance on issues of common interest to both governments such as the Pacific Alliance, gender equality and education, among others. The Minister for Foreign Affairs (S) wishes Ambassador Peña every success in her functions as Canada's new diplomatic representative.