Foreign Minister Muñoz met with Secretary-General of the UN in New York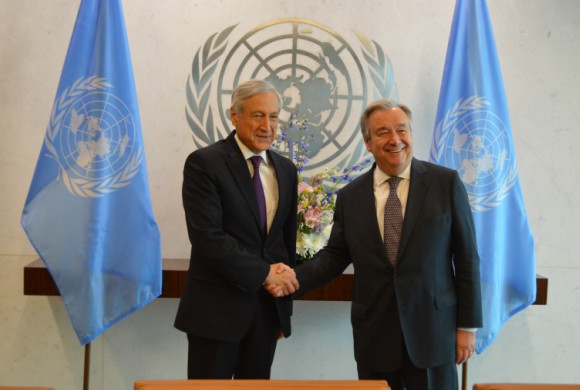 Minister of Foreign Affairs, Heraldo Muñoz, began today his visit to the United States. This afternoon he met with Secretary-General of the UN, António Guterres, at the United Nations headquarters in New York. During the encounter, both authorities addressed diverse issues related to Chile, Latin America, and the current international scene.
Another subject in the meeting was the retirement of the Chilean troops in Haiti. "We will keep on cooperating with Haiti but in other ways. Now we are focused on cooperation for development. We will leave a small group of Chilean policemen and detectives to keep on training and helping the Haitian policemen", stated Minister Muñoz.
They also discussed the pacification process in Colombia, were Chile sent sixty Chilean military and civilians to verify peace between the Colombian Government and the FARC. The Secretary of State mentioned that Chile is also a guarantor country in the peace conversations with the ELN group.
Both leaders commented on climate change and the oceans. On this matter, Minister Muñoz announced his participation in the General Assembly of the UN related to Ocean Conservation in June. He affirmed, "Chile has an important voice in this international issue and will continue discussing".
Tomorrow Minister Muñoz will meet with State Secretary of the United States, Rex Tillerson, in Washington. This encounter will be the first high level meeting between the authorities. "We want to continue developing the great bilateral relationship between both countries", stated Foreign Minister.
After this meeting, Chilean Minister Muñoz will gather with Secretary General of the Organization of American States, OAS, Luis Almagro.